The Fabulous Shirtheads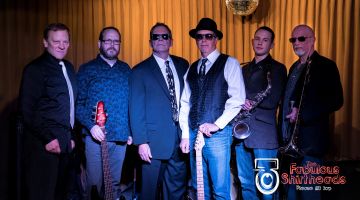 Date
July 28 & 29, 2017
Cost:
Free Admission
| | | |
| --- | --- | --- |
| Friday, July 28, 2017 | 9:30pm | |
| Saturday, July 29, 2017 | 9:30pm | |
Headlining Band at the TIN LIZARD on July 28th & 29th!

The Fabulous Shirtheads- Over the years the Band has performed with many recording artists and legends of the music industry, including the Spencer Davis Group, Sam and Dave, Blue Oyster Cult, Peter Frampton, Delbert McClinton, Buddy Guy, The Turtles, Paul Revere & The Raiders and others. In concerts for as many as 50,000, the Band has consistently been a crowd pleaser, and this has led to the 33 years of sustained popularity. Known for onstage comedy and antics, along with a solid, danceable play list, the Band appeals to a diverse audience. This appeal has received national attention is such publications as Spin magazine which spotlighted the 'Heads in an article tracking a day of rock and roll across the United States. The 'Heads have been called a "fixture" of the Wichita music scene, and plan to continue playing and having a good time for many years to come.