Evolution Fighting Championship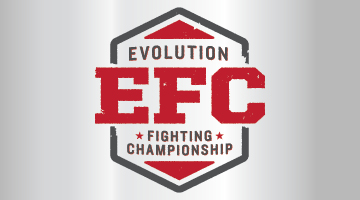 Date:
May 13, 2017 6:00pm
Cost:
Tickets from $25
EFC is the premier show for MMA in the Wichita area!! Hosted by local Bellator fighter Dave "The Caveman" Rickels, EFC offers the best in fight entertainment!
Make sure to mark your calendar as Evolution Fighting Championships introduces new weight classes as well as two EFC title fights featuring Chris Harris and Steven " The Ninja" Nguyen.
Doors open at 5:00PM, Fights start at 6:00PM.
FIGHT CARD for EFC 5
Super-Welterweight Title: Chris Harris vs. Kyle Kurtz
Featherweight Title: Steven Nguyen vs. Jose Leyva
Kelsey Adkins vs. Jessica Phillippus
Dustin Blake vs. Jesus Adame
Devon Schwan vs. Christopher Beal

Prelims
*Jess Howard vs. Chad Ewalt
Kyle Monk vs. Chris Turner
Caleb Arnold vs. Tanner Brown
Tim Grammon vs. Matt Hyman
*Austin Rodriguez vs. Javontez Phillips
Spencer Feurerborn vs. Kevin Williams
Joe Callo vs. Marquel Harper
Juanta Saunders Jr. vs. Clifford Aisle
*Matthew Rath vs. Jose Martinez

*Denotes Kickboxing
This is an ALL AGES show!
Sponsors of Evolution Fighting Championship:
Aztec Property Services
Big Fish Bail Bonds
Global Parts Aerospace
Parks Motors
Tell Industries