Asian Variety Show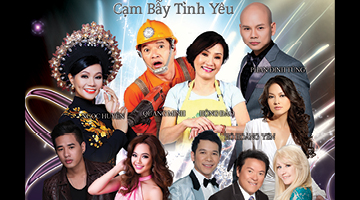 Date:
April 15, 2017 7:30pm
Cost:
Free Admission

Free Admission for all guest! Must be 21 or older.

Cam Bay Tinh Yeu ( To Trap Love ) A Vietnamese variety concert Headlined by Singer Song writer Phan Dinh Tung touring the U.S. from the Mainland of Vietnam. With over 20 #1 single hits, Phan Dinh Tung will surly captivate his fans April 15 at The Kansas Star Arena! Joining him on stage will be country duo Ngoc Huyen and Dang The Luan to perform many hits about the homeland. Helping to fill the evening with laughter are Husband and Wife comedy team Quang Ming and Hong Dao, also on stage that night Ballad singer
Ho Hoang Yen and Pop singer Ngoc Anh Vi from Asia Entertainment, and from Paris By Night Khai Dang.
The MC that evening will be the one and only Cong Thanh, Star of the Cong Thanh show on
SBTN ( Direct TV ) Guaranteed to be a night to remember!

Important Notice Below:
Limited 2 tickets per person. Please visit the Lucky Star Players Club to receive your tickets.
Must be a Lucky Star Players Club member to receive tickets.
Tickets available March 20 - April 14, 2017.
While supplies last.